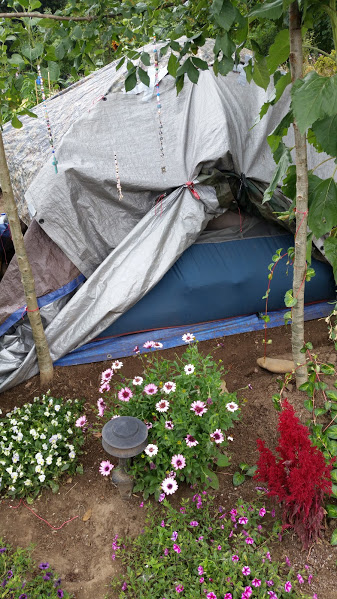 Mark is an organized, clean young man. He also happens to be houseless. He created a large tent area with a BBQ grill, a separate space for friends to stay over, and decorated his area with flowers and ribbons. Really nice. Until someone burned it down.
He saw the smoke from a distance and as he got closer he realized that it was his camp. He called 911 and the fire department immediately came over. When they saw the distance it was from the road, the fire department turned around and left Mark to watch his living space and all his possessions go up in flames. In the next few days, he combed through the space and found pretty much nothing to preserve.
He got another tent from a local pastor and a sleeping bag. Then he began working on his space.
He cleaned it off, created space for a new tent. He built a legal campfire. And once all the basics were in place, he created a home. A garden came together from the ashes, hidden from the world, a secret space for Mark and his friends. One of the most beautiful camps I've ever seen.
Is Mark homeless? Not at all. He cared for his space so much that he cleaned it and preserved it and beautified it. When he leaves a place, he tells us that he's "going home." He has a home, a space that he loves and is loved.
Is he houseless? Not exactly. He has a tent he calls his house and he has some comforts. He isn't contained in a box, but he has as much a home as any Bedouin as lived in a tent.
But Mark is still vulnerable. The property is not owned by him. As soon as a city council member with a desire to move homeless out gets a whim, Matt will have to move and he will have twenty-four hours. When we speak of "homeless folks" or "houseless people", we are not speaking of people who lack the comforts we call home. They lack the security that they can remain.
Every couch surfer called "homeless" might lose their piece of fabric at any moment.
Every person who lives in an RV on the street is homeless because they are not permitted to park overnight anywhere.
Every teenager who is thrown out of his house by his parents and can't go home is vulnerable in this way.
Every woman and her children who are on the run from domestic abuse and has nowhere to stay is the same.
Every person who has to park in front of a friend's garage because they were evicted from their apartment are the same way.
Most people haven't been homeless as long as Mark. But they all are in the same category. They are all threatened.