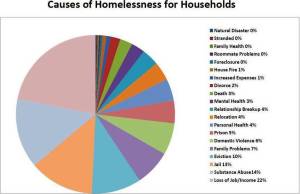 It is often assumed that houseless folks become homeless due to drugs and alcohol, which is why there are so many people we see using such items on the street.
However, it has been shown that approximately fourteen percent of those on the street lost their housing due to substance abuse. As a person is on the street longer, the more likely it is that they will be addicted to a drug. Chronic houseless individuals are much more likely to be addicted than a person on the street for a year or less.
This is because drugs or alcohol are being used as a way to ease the pain of living on the street, especially if they are regularly harassed and abused. Up to 80 percent of homeless youth use substances to deal with the trauma they experience every day.
I have found again and again that many houseless individuals or couples find it a fair exchange to drop their substance abuse for stability and opportunities for a new life. This isn't true of everyone, as the street is also the only reliable depot of those our society considers unacceptable. But we need to stop considering substance abuse as a personal failure and instead see it as a health issue in our society.
Reference: National Coalition on the Homeless, http://www.nationalhomeless.org/factsheets/addiction.pdf