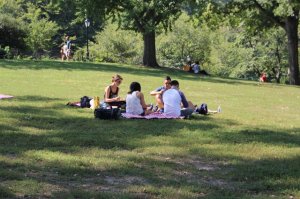 A group of friends sat down in the park to have a picnic. The sun was bright, they laid down a couple blankets, they were teasing each other. They were laughing and enjoying each other's company. Someone had brought a Frisbee and they were passing it around. They had just bought some hamburgers and were using the barbecue to grill it. Everyone was having a great time.
Suddenly, the police came and told them that the dispatch had received a call complaining about them so they had to leave. When someone asked, "Why? What did we do?" The police responded, "We've told you before, the park isn't for you. It's for our citizens."
One of the men gets bold and says, "We are citizens. We live in this neighborhood." They are told that they don't pay taxes, so they had to go. A woman says, "What about our food? It will be ruined if it doesn't finish cooking."
The police say, "That's not our problem. You have to go. Now." They pack up to leave.
They were homeless.
What if you couldn't partake of every day pleasures simply because you lost your job, because you didn't have a home. This kind of story happens to tens of thousands of people everyday. The homeless are our children, our parents, our co-workers, they go to school with our children. As a society, we need to give the homeless a place to thrive.