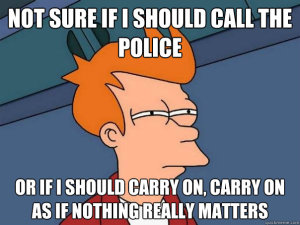 When we are working with homeless folks, there are times when there are… problems. Perhaps you will see someone using drugs in the bathroom, perhaps a fight will break out, perhaps someone will be drinking on the property. Some facilities will immediately call the police to deal with the situation. Generally, the folks who have been around longer will pick their fights. But which situations do we really need the police for?
First of all, always try to deal with a situation yourself. If you know someone is using drugs on the property, ask them to leave. If someone is drinking on the property, take the alcohol away. Give a warning, or set up a penalty.
In general, we don't want to call the police. First, because the police should have other things to do, other emergencies to handle. We don't want to be seen as a facility that NEEDS the police hanging around. That ruins the reputation of our facility. Also, if the police are called, they might think it is an emergency and deal with the issue stronger than is necessary. And if we call the police in situations other than a dire emergency, we might lose our reputation among the houseless community.
So when DO we call the police? First, if a violent situation is out of our control. If a fight breaks out, we might be able to break it up. But if violence is out of our control, or if the leaders are the target of violence, it is time to call the police.
I might also call the police if someone is banned from the facility or it is time to close, but they refuse to leave. They might need an extra nudge to get them off the property. In these cases, we might want to inform the officers that we are not looking to press charges, but only to have them taken off the property. The police will check for warrants, but not make an arrest otherwise.
When calling the police, I highly recommend using the non-emergency line. If we call 911, the police are prepared for the worst situation, hands on guns, because they don't know what they are getting into. But if we call the non-emergency line, we can explain better what the situation is, and the police won't rush, and they'll be calmer and ready to deal with a non-emergency situation. Every police department has a non-emergency number, so I recommend finding out what it is, and put it on your phone.
In general, though, calling the police should be the last resort.