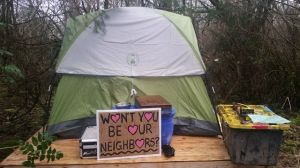 On January 28, 2018 Anawim Christian Community joined Advocacy5 in establishing a place for homeless people to obtain some stability and to connect to the tools they need to get off the street.
On February 2, 2018, the city of Portland shut down this community and took all of our possessions.
The reason they took it is because we placed the village on public land. The land in which the village was placed already had fifty or more houseless folks whom we had been serving by bringing food. We collected and disposed of more than twenty large bags of garbage, established low-impact platforms and placed a few houseless in the village while we waited for the city to respond.
The city responded by sending rangers and police to escort us off the property with the threat of being arrested, and taking all we had established.
As a society, we need to find alternatives to many cities' action of sweeps and harassment of homeless folks. Like all kinds of oppression, it is our responsibility as followers of Jesus, who set people free from oppression, to stand and provide other opportunities. Village of Hope is one of those opportunities, a piece of harm reduction and stability for those who know only crisis and harassment, everyday. It is a work of Jesus, showing our city and the world how love can conquer poverty.
We need your help. The ACLU has taken interest in our work and they might be able to stop the city from forcing us to be swept. But we need more signatures on this petition to prove public support of our action. Please sign this petition. If you can help us in any other way, please send us an email to anawimcc@gmail.com
https://action.aclu.org/secure/take-action-protect-village-hope