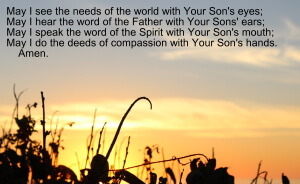 Father, this day as I rise, let me put on the love of Jesus.
I put on compassion.
I put on patience.
I put on gentleness
I put on a listening that heals.
I put on rejoicing in others.
I put on forgiveness.
I put on healing the sick.
I put on delivering the insane.
I put on comforting the needy.
I put on giving to the poor.
I put on lowering myself.
I put on declaring justice.
May I create peace where there is no peace.
May I create hope where there is no hope.
May I create a place of mercy for all who are in need.
May I make a sanctuary for those whom "the world" means only pain.