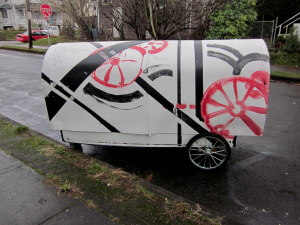 Last year in the Portland area, there were 56 people who died on the street. Many of these folks died due to winter weather. We are determined to see no one in our area die this year because of the cold and wet. But we will need your help.
There simply aren't enough shelters for everyone, but Portland's weather even during winter isn't so severe that people can't survive—IF they have the right gear. If you are living outside, you need tarps to prevent you and your items from getting wet. You need sleeping bags to keep the winter overnight temperatures from causing hypothermia (Fun fact: a person can die from hypothermia even in 40 degree temps!). And they need tents for fundamental shelter.
So we are collecting funds to keep our friends alive this winter to provide them with the supplies they need.
We found two man tents for just twenty dollars each. We will need about 50 of them.
We found brown 9 x 12 tarps for 7.56 each. We will need about a hundred of them.
We found 20 degree sleeping bags for 26 dollars each. We will need 50 of them.
This means to meet our target goal, we will need at least 3000 dollars. I know that's a lot of money. But lives are at stake.
I'll tell you what. If any of you send us at least a hundred dollars toward this goal, we will send you a piece of Anawim art, created by one of our many artists.
You can send us a check to "Anawim" at 3733 N Williams Portland OR 97227, or you can send us a donation through PayPal. Please put on the tag line "Winter".
Donate here: https://hogansheroesfanclub.com/donate/
We really appreciate your help. And so do our folks struggling to survive.