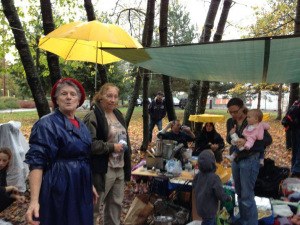 More writing by Karen Burch:
It isn't all bad living on the streets. There are things that rarely happen nowadays when you live in a house.
First you are more connected to the people in your community (if you can stay in the area). Businesses and homeless alike see you everyday and get to know you as you get to know them. There is a stronger bond between neighbors out here. People more willing to help then a neighbor who lives in a house.
We have patched up animals and people. We have helped when a fire happens pulling dogs and people out. We pull together when the police start harassing us. More so then those in a housed community.
Some of the people I have met out here have touched my heart and every time they get cut loose about something I would like to hurt someone. Peoples' past are just that: the PAST. Who you are now, standing in front of me showing me who you are; and where and who you want to be in the future, counts a hell of a lot more than someones freaking past. We all make mistakes and pay for them no need to be punished forever. Not one of us is perfect we have no right to judge someone unless they prove they deserve to be judged.
Never assume anything. That assumption could lead you to hate when there isn't a need for hate. These are things forgotten when it comes to the homeless.
***
So our missing family member came home.
I had been calling shelters and hospitals to find him. No hospital would tell me if he was there. Come to find out he had been in the hospital for 6 days and a hotel for 2.
That is always a problem people disappear all the time and you don't know what happens to them. If they go out of your neighborhood "your stomping ground" you lose track of them. People don't know them like they would in your area.
So until they come home you wonder where they are. If they are alright. IF they are coming back.
When people go missing for to long Paul and I go looking put out the word in places where they go often. They all come check in with "mama Karen". They know at least someone out here cares what happens to them because most don't have someone who would care. These are people out here.
They are not garbage no matter what their problems they are people they are family. We are all just trying to survive.