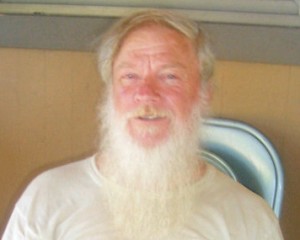 Mike lived in his truck and worked as a handyman/carpenter until his truck was stolen and all his tools. Now he lives at the Anawim house and is always there to fix what is broken and to built what needs to be built.
Honestly, without Mike we'd be in trouble. He isn't a mechanic, but when the Anawim van was broken down lately, he got the mechanic's book, sat down and thought and thought… and figured out what was wrong. That's what Mike does: figures things out. If you need a quick repair, he's not your guy. But if you want it done right– talk to Mike.
In the past, Mike has built houses from the ground up: basement, structure, plumbing, electricity, the whole works. He's built furniture, remodeled houses, kept boats in good repair (he used to be with the Coast Guard) and has done more things than you can imagine.
And on top of all that, he is just the nicest guy you'd ever meet. Always genteel, always friendly, often laughing. It's wonderful to have him around.